Hello Viewers in this article we will share with you one of the satellite family Sat finder Twinkler SF-620s software download for free of cost. the Twinkler SF-620s is a High Definition TFT 4.3 inches LCD screen, it is a Supported DVB-S/DVBS2 complaint.
it supported the DiSEqC 1.0/1.1/1.2 format, Twinkler SF-620s DVB-s2 also supported multimedia play. it has a USB2.0 interface for software updates, it has a 5000mAh long-life battery.
Twinkler SF-620s Satellite Finder Meter Specifications
*1080P, FULL HD, DVB-S/S2 Satellite Multi-functional Handheld Meter
*4.3 inch TFT LCD Display
*Watch live FTA program in full color
*13V/18V/22K/Lock/Power status display
* LNB short-circuit alarm and protection function
* DiSEqC / USALS 1.0 / 1.1 / 1.2 / USALS
* PVR, Timeshift, and Multi-media Play Supported
* Multi-lingual OSD for world use
* USB2.0 interface available for software update, content recording
*LED torch and double-speaker inside
* Spectrum Analyzer
* Network Extension: YouTube, IPTV…
*CCTV Camera tester in CVBS (Remark: Finder with CCTV camera tester in AHD/TVI/CVI/CVBS model is also ready)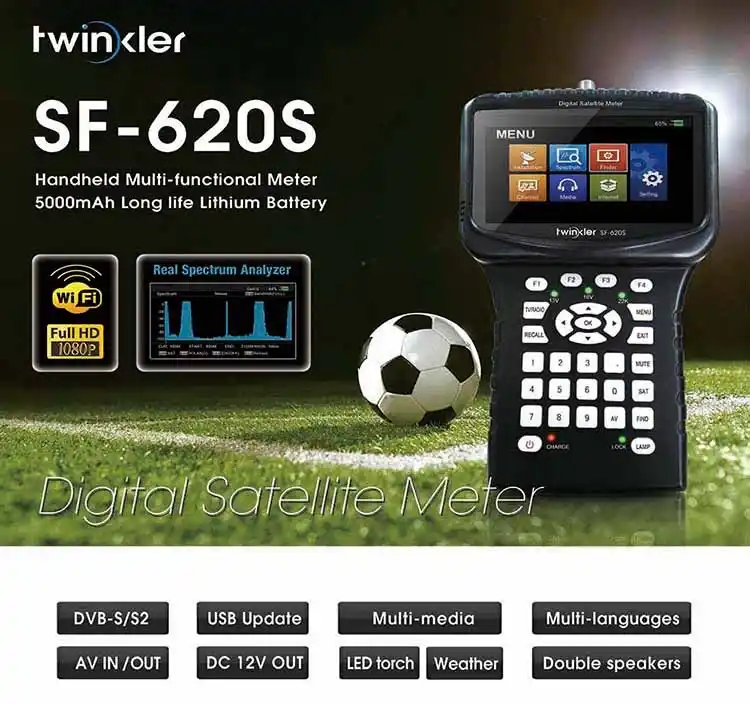 For Downloading the Twinkler SF-620s latest Software and for Other All Sat Finder Meter Software Update Please Click on the Below Button.
DOWNLOAD Twinkler SF-620s New Software